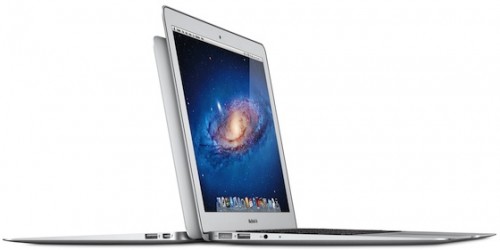 Digitimes reports that Apple is set to update its MacBook Air line early next year, with a new 15-inch model appearing alongside refreshed 11.6-inch and 13.3-inch models. The update will reportedly take place during the first quarter of 2012.

Apple reportedly is set to launch its new MacBook Air series notebooks with panel sizes of 11.6-inch, 13.3-inch and 15-inch in the first quarter of 2012 and will directly compete against ultrabooks from PC brand vendors, according to sources from the upstream supply chain.


The sources noted that related upstream players have already started pilot production of the MacBook Air models and will add a 15-inch model into the product line to expand its reach in the ultra-thin notebook market.
The report notes that discounts on the current MacBook Air models should extend through the lead-up to the debut of the new models, continuing to drive Apple's already-strong sales of the ultra-thin notebook line.


We first began hearing word of an ultra-thin 15-inch notebook from Apple back in July, with other sources also weighing in on the topic in recent weeks. Digitimes had previously indicated that component production for the notebook had begun with an eye toward a second quarter 2012 launch.


Sources have generally been unsure whether the new 15-inch notebook would be an expansion of the MacBook Air line or if it would appear as a slimmer MacBook Pro model, but this latest report indicates that it will indeed be a MacBook Air product.


Intel's Ivy Bridge platform, which is due for a spring launch in line with the reported MacBook Air revamp timeline, will bring a significant upgrade to the line's performance, particularly with regard to graphics improvements and new OpenCL support.


Recent Mac and iOS Blog Stories
• MacBook Pro Sales Persist on Cyber Monday
• Siri0us Brings Voice Dictation to Jailbroken iPhone 4 and 3GS Devices
• China Telecom Begins Unofficially Teasing iPhone 4S Launch
• Apple Posts New iPod Touch TV Ad: Share The Fun
• Samsung Mocks iPhone Fans in New Galaxy S II Ad

More: continued here