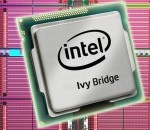 Earlier this month, leaked information suggested that Intel's next-generation mobile Ivy Bridge processors would debut in May, with a few models perhaps becoming available in April. The mobile Ivy Bridge processors are expected to be used in Apple's MacBook Pro, MacBook Air, and Mac mini lines.


A new report from Digitimes indicates, however, that the first Ivy Bridge processors may launch as early as April 8th, with both the mobile processors and desktop processors such as those used in the iMac debuting around the same timeframe.

Desktop CPUs to be unveiled include quad-core Core i7-3770K, 3770, 3770S, 3770T, and Core i5-3570, 3550 and 3450, with prices ranging from US$184-332. Additionally, the Core i5-3470T will be available in May priced at US$184. [...]


Notebook CPUs Core i7-3920Qm, 3820QM and 3720QM will be released in April priced at US$1,096, US$568 and US$378, respectively. Other models including Core i5-3520M, 3360M, 3320M and ultrabook CPUs Core i7-3667U and Core i5-3427U will be unveiled later.
While the report also appears to confuse chipsets being released at the same time with the processors themselves, information on specific processor models does help offer some picture of what Apple might be able to accomplish in terms of updated machines.


The 3820QM and 3720QM processors in particular appear to be the natural successors to Apple's current processor options in the high-end 15″ and 17″ MacBook Pro models. Apple's upgrade route in many other cases is less clear given the company's propensity to use custom-produced chips and a limited first wave of Ivy Bridge processors. The Core i7-3667U and Core i5-3427U processors appear to be the only processors in the initial wave of Ivy Bridge processors to meet the thermal design requirements for the MacBook Air, with those processors apparently set for the later May debut.


Apple has been rumored to be launching a new 15″ MacBook Pro with "Retina" display technology in the second quarter of 2012, matching the Ivy Bridge launch timeline. A new 15″ MacBook Air has also been rumored alongside an update for the rest of the line in the first quarter of 2012. But with the appropriate Ivy Bridge processors apparently not debuting until May, it is unclear how Apple would meet this timeline.


Recent Mac and iOS Blog Stories
• Untethered iOS 5.0.1 Jailbreak Available for Non A5-Devices
• Siri for Pre-iPhone 4S Jailbroken iPhones Available, but It Remains Complicated
• Best Buy Offering Buy One, Get One Free Offer on 32GB iPhone 4 Today
• Woot.com Offers Entry-Level 21.5" iMac For $150 Off
• JJ Abrams' Action Movie FX App Blows Up Just About Everything

More: continued here