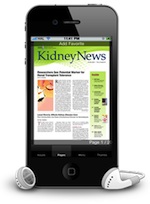 Reuters reports that five people have been charged with intentional injury in southern China after a teenager sold one of his kidneys in order to purchase an iPad and iPhone. According to the report, those charged include the surgeon who removed the kidney and another person who arranged for the transplant into an undisclosed recipient.

The boy, identified only by his surname Wang, now suffers from renal deficiency, Xinhua quoted prosecutors in Chenzhou city, Hunan province as saying.


According to the Xinhua account, one of the defendants received about 220,000 yuan (about $35,000) to arrange the transplant. He paid Wang 22,000 yuan and split the rest with the surgeon, the three other defendants and other medical staff.
The iPad 2 in Apple's Chinese online store ranges from 2,988-5,499 yuan, while iPhone pricing begins at 2,888 yuan for an unlocked iPhone 3GS and goes up to 6,788 yuan for a 64 GB iPhone 4S.


The report indicates that Wang is from Anhui, one of the poorest provinces in China, and that he is suffering from renal deficiency since the transplant, a condition that is continuing to worsen. Interestingly, a nearly identical story surfaced last June, and while the teenager in that case was identified by a surname of "Zheng", the cases are so similar in their details that they may be referring to the same event.


Trading and sale of human organs is banned in China, where low organ donation rates have led those in need of transplants to seek out alternatives to established organ matching programs.

(Image from Kidney News [App Store])


Recent Mac and iOS Blog Stories
• Max Payne Arrives On iOS April 12th
• Apple Updates iPad Billboard Atop West 14th Street Store
• Apple Still Advertising iPad 2 on Roof of West 14th Street Retail Store
• Push Email Coming to Sparrow for iPhone, Promises Developer
• Apple Releases Update to Java for OS X to Version 1.6.0_31

More: continued here